Draft Beer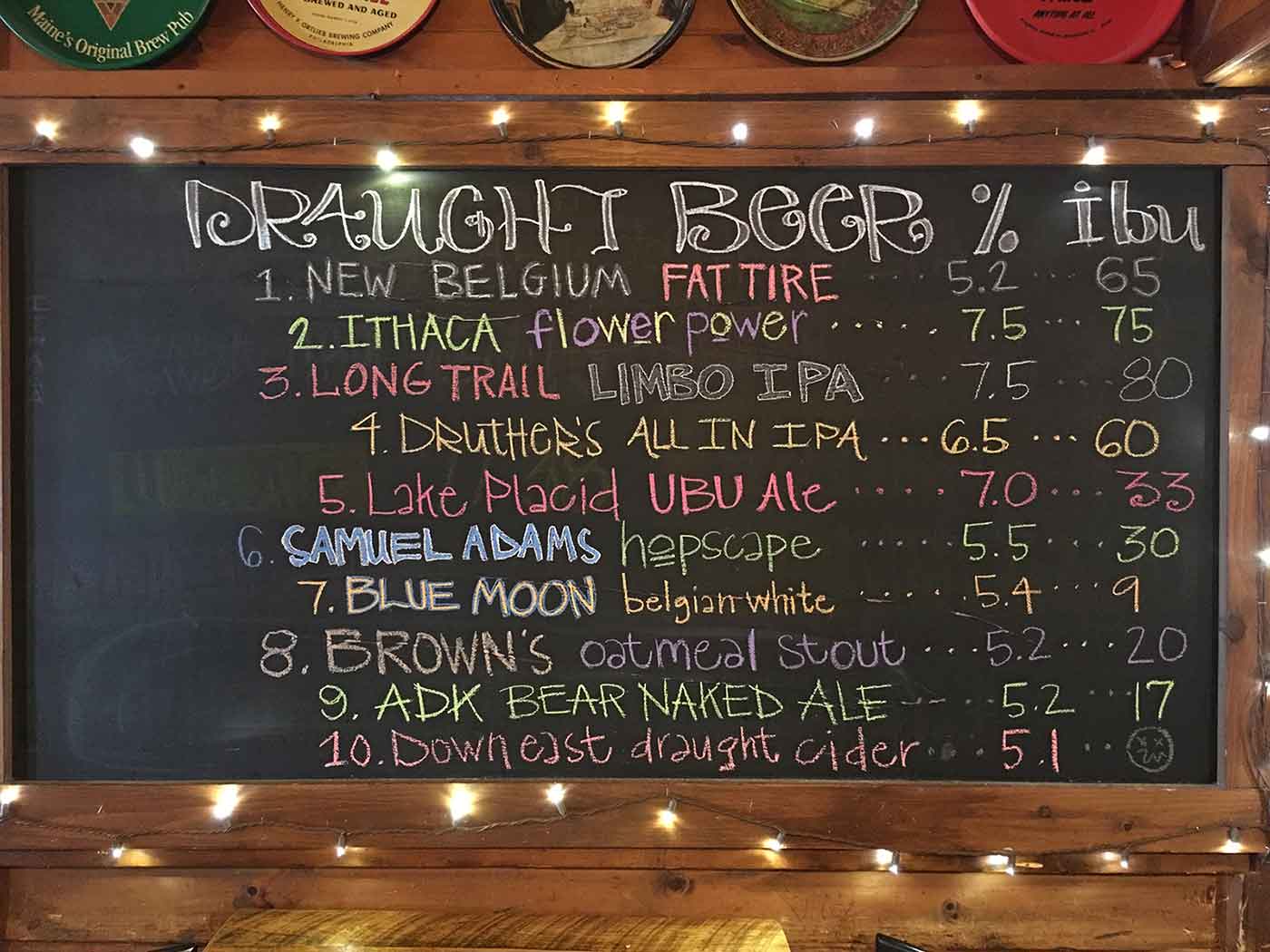 Stone Ipa
Stone Brewing | IPA | 6.9 % | 77 IBU
Citrusy flavor and hop aromas perfectly balanced by a subtle malt character. A crisp, extra-hoppy brew considered World Class by RateBeer.com and BeerAdvocate.com.
All-In IPA
Druther's Brewing Co. | IPA | 6.6% | 60 IBU
Hoppy, American-style IPA. Polaris and amarillo hops dominate the aroma, with horizon hops providing a strong yet smoothly bitter finish.
Sculpin
Ballast Point | IPA | 7.0% | 70 IBU
Bright with aromas of apricot, peach, mango and lemon. Deemed World Class by RateBeer.coma and BeerAdvocate.com, its lighter body also brings out the crispness of the hops.
Samuel Adams Summer Ale
Boston Beer Company | Wheat Ale | 5.3% | 8 IBU
American wheat ale brewed with lemon zest and grains of paradise to create a crisp and spicy flavor and body.
Original Cider
Downeast Cider House | Hard Cider | 5.1%
Made from fresh-pressed apples and all-natural ingredients; no artificial sweeteners or preservatives.
Bear Naked Ale
Adirondack Brewery | Amber Ale | 5.2% | 17 IBU
Our best-seller, Bear Naked is an all-natural, medium-bodied amber ale with a clean and crisp beer with a toasty, fruity backbone.
Sea Dog Blueberry Wheat Ale
Shipyard | Wheat Beer | 4.7% | 9 IBU
The nutty quench of wheat ale combined with the delightful aromatics and fruit flavor contributed by Maine wild blueberries.
Allagash White
Allagash Brewing Co. | Wheat Beer | 5.1% | 13 IBU
Belgian-style wheat beer brewed with oats, malted wheat, and unmalted raw wheat for a hazy, ÒwhiteÓ appearance. Spiced with coriander and Curacao orange peel.
Summer Shandy
Leinenkugel Brewing Co. | Wheat Beer | 4.2% | 13 IBU
Traditional wheat beer brewed with natural lemonade. Refreshing and sweet with a crisp citrus taste.
Stella Artois
Yuengling
Coors Light

Staff Bottles
Ginger Beer
Crabbie's | Ginger Beer | 4.8% | 16.9 oz
Refreshing, light-bodied ginger beer with spicy ginger flavor and notes of citrus. Best served over ice.
Hell or High Watermelon
21st Amendment | Wheat Beer | 4.9% | 17 IBU | 12 oz
American wheat beer with fresh watermelon. A straw-colored, refreshing beer with a kiss of watermelon aroma and flavor.
Victory at Sea
Ballast Point | Imperial Porter | 10% | 60 IBU | 22 oz
Velvety porter with pure vanilla and roasted coffee. Rated World Class by RateBeer.com and BeerAdvocate.com.
Beaver Brown IPA
Paradox Brewing | IPA | 6.5% | 65 IBU | 12 oz
Juicy IPA with distinct notes of pine and ripe citrus. Full, creamy mouthfeel.
Lager of the Lakes
Bell's Brewing | Pilsner | 6.5% | 65 IBU | 12 oz
Crisp combination of firm malt and herbal hop bitterness.
Daisy Cutter
Half Acre Beer Co. | APA | 5.2% | 60 IBU | 16 oz
West coast ale chock-full of dank, aromatic hops and heavy notes of citrus.
90-Minute IPA
Dogfish Head | Imperial IPA | 9.0% | 90 IBU | 12 oz
Esquire Magazine calls it "perhaps the best IPA in America." An imperial IPA with a great malt backbone that stands up to the extreme hopping rate.

Bottled Beer
Budweiser, Bud Light, Bud Light Lime, Busch, Busch Light, Coors Light, Coors Non-Alcoholic, Corona, Corona Light, Genessee, Guinness, Heineken, Heineken Light, Labatt Blue Light, Michelob Ultra, Mike's Hard Lemonade, Miller Light, Molson Canadian, Labatt Blue Light, Pabst Blue Ribbon, Twisted Tea, Twisted Tea Half & Half, Twisted Tea Light


Wine
Chardonnay, Woodbridge by Robert Mondavi
White Zin, Woodbridge by Robert Mondavi
Cabernet Savignon, Woodbridge by Robert Mondavi
Merlot, Woodbridge by Robert Mondavi
Pinot Grigio, Cavit
Riesling, Cavit