Draft Beer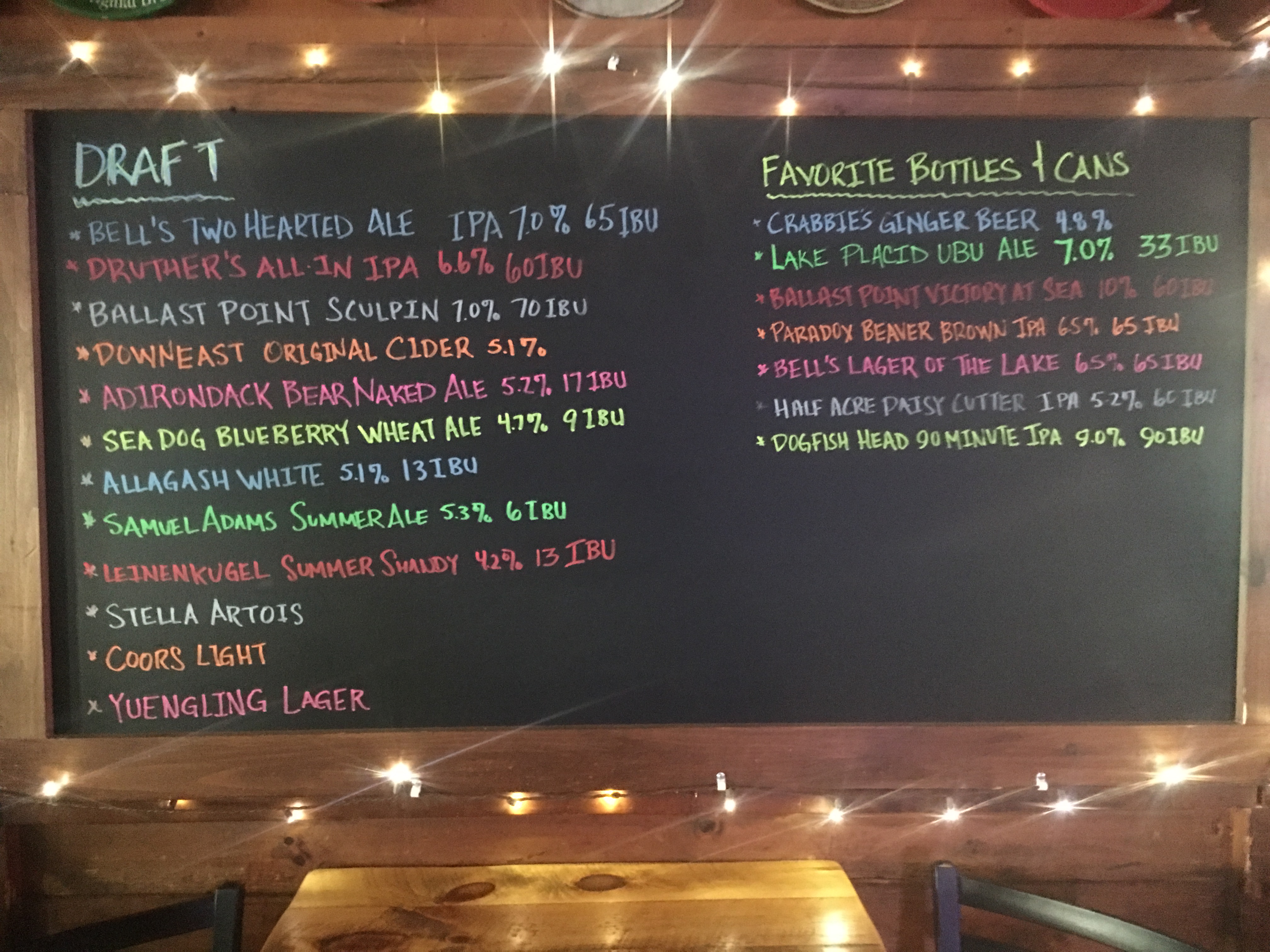 Good Fortune IPA
Common Roots Brewing | IPA | 6.5% | 80 IBU
Brewed in South Glens Falls, this modern IPA boasts a tropical aroma and smooth, citrusy finish with the perfect amount of bitterness.
60 Minute IPA
Dogfish Head | IPA | 6.0% | 60 IBU
A powerful but balanced East Coast IPA with a lot of citrusy hop character, it's the session beer for hardcore enthusiasts.
tOATal Darkness Stout
Artisanal Brew Works | Oatmeal Stout | 5.0% | 50 IBU
Brewed in Saratoga, tOATal Darkness boasts rich, smooth malty chocolate flavors without the burnt toast flavors found in many stouts.
All In IPA
Druther's Brewing Co. | IPA | 6.6% | 60 IBU
Hoppy, American-style IPA. Polaris and amarillo hops dominate the aroma, with horizon hops providing a strong yet smoothly bitter finish.
Celebration IPA
Sierra Nevada | IPA | 6.8% | 65 IBU
One of the earliest examples of an American-style IPA and one of the few hop-forward holiday beers. Famous for its intense citrus and pine aromas, Celebration is bold and intense.
Flower Power IPA
Ithaca Beer Co. | IPA | 7.5% | 75 IBU
Punchy and soothing with a big body, floral aroma and a hoppy finish that boasts fresh notes pineapple and grapefruit.
Original Cider
Downeast Cider House | Hard Cider | 5.1%
Made from fresh-pressed apples and all-natural ingredients; no artificial sweeteners or preservatives.
Bear Naked Ale
Adirondack Brewery | Amber Ale | 5.2% | 17 IBU
Our best-seller, Bear Naked is an all-natural, medium-bodied amber ale with a clean and crisp beer with a toasty, fruity backbone.
Samuel Adams Cold Snap
Boston Beer Co. | White Ale | 5.3% | 22 IBU
Refreshing, unfiltered white ale with the subtle sweetness of orange peel and plum and a peppery bite of fresh ground coriander.
Yuengling
Coors Light
Stella Artois
favorite bottles and cans
Milk Stout Nitro
Left Hand Brewing Co. | Stout | 6.0% | 25 IBU | 12 oz
Aromas of brown sugar and vanilla cream, with hints of roasted coffee. The pillowy head coats your upper lip and its roasty, mocha flavors rise up, with slight hop and roast bitterness in the finish.
Blood Orange Gose
Anderson Valley | Gose | 4.2% | 60 IBU | 12 oz
A tart, refreshing wheat ale with tangy citrus notes that complement champagne-like flavors, creating a complex and sessionable ale perfect for any occasion.
Original Ginger Beer
Crabbie's | Ginger Beer | 4.8% | 11.7 oz
Refreshing, light-bodied ginger beer with spicy ginger flavor and notes of citrus. Best served over ice.
Ubu Ale
Lake Placid | English Strong Ale | 7.0% | 33 IBU | 12 oz
Deep garnet red in color with dark fruit and roasted malt flavors and a slightly bitter finish.
Shadow Figures
Common Roots | Porter | 5.5% | 55 IBU | 16 oz
Brewed with specialty roasted malts and flavors of chocolate, coffee, and caramel.
Beaver Bite IPA
ipa Paradox Brewing | IPA | 6.5% | 65 IBU | 16 oz
Hazy copper in color with malt sweetness to balance the bold dry hop aroma. Big juicy aromatics balanced with a hint of pine character.
Lager of the Lakes
Bell's Brewing | Pilsner | 6.5% | 65 IBU | 12 oz
Crisp combination of firm malt and herbal hop bitterness.
Daisy Cutter
Half Acre Beer Co. | APA | 5.2% | 60 IBU | 16 oz
West coast ale chock-full of dank, aromatic hops and heavy notes of citrus.
90 Minute IPA
Dogfish Head | Imperial IPA | 9.0% | 90 IBU | 12 oz
Esquire Magazine calls it "perhaps the best IPA in America." An imperial IPA with a great malt backbone.
Bottled Beer
Budweiser, Bud Light, Bud Light Lime, Busch, Busch Light, Coors Light, Coors Non-Alcoholic, Corona, Corona Light, Genessee, Guinness, Heineken, Heineken Light, Labatt Blue Light, Michelob Ultra, Miller Light, Molson Canadian, Labatt Blue Light, Pabst Blue Ribbon, Twisted Tea, Twisted Tea Half & Half, Twisted Tea Light
Wine
Chardonnay, Woodbridge by Robert Mondavi
White Zin, Woodbridge by Robert Mondavi
Cabernet Savignon, Woodbridge by Robert Mondavi
Merlot, Woodbridge by Robert Mondavi
Pinot Grigio, Cavit
Riesling, Cavit