Food Menu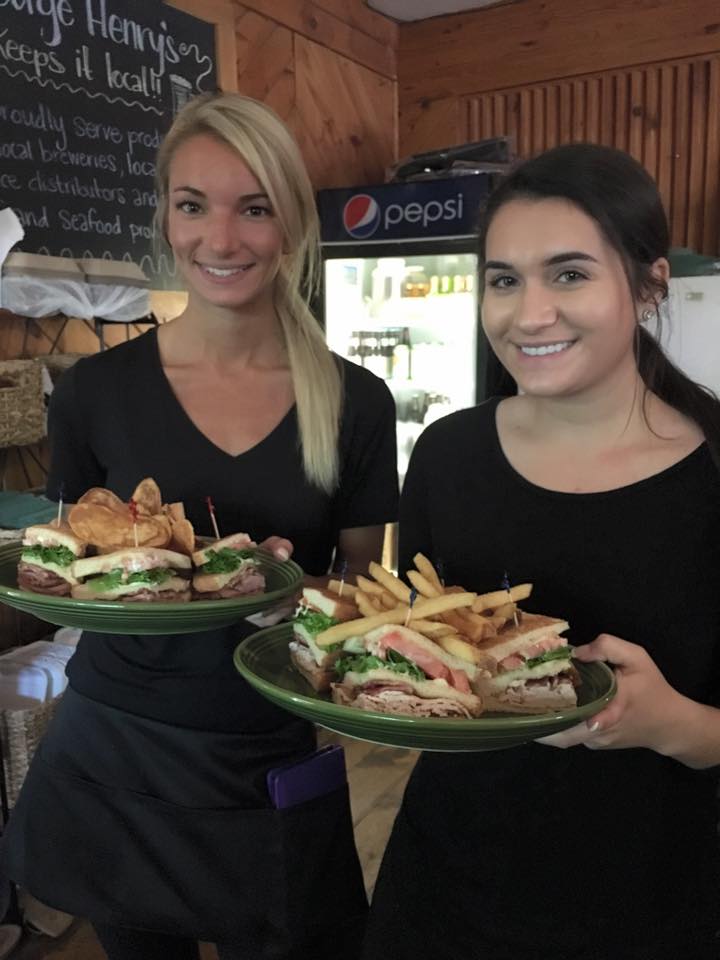 Over the years, we've come to be pretty darned good at making a lot different types of food that people in the Adirondacks love to eat. We make a wide variety of hearty beef, chicken and fish dinners, a mean batch of chicken wings, incredible fresh salads and homemade soup. But there's one thing we're particularly proud of -- our burgers. Juicy and hot off the charbroiler with your choice of fixings, our burgers will bring you back every time.
Watching what you eat? Looking for low-fat, low carbohydrate or gluten-free options? We'll alter any current menu item to fit your particular nutritional needs! We love special orders!
Chicken Wings
Five 5.99 • Ten 10.99 • Sixteen 15.99
Mild • Medium • Hot • Crazy • BBQ • Bourbon BBQ • Spicy BBQ
Garlic Parmesan • Spicy Garlic Parmesan • Sesame Ginger • Sweet Thai Chili • Spicy Thai Chili
Our famous jumbo wings served with celery and chunky bleu cheese; chicken tenders available for 7.99
Starters
Spinach Artichoke Dip
Creamy blend of spinach, artichoke hearts, monterey jack and parmesan cheese with house-fried corn tortilla chips - 8.99
Bourbon Scallops
Pan-seared, dry day boat scallops with a bourbon and brown sugar reduction - 14.99
Steamed Clams
One pound of Rhode Island littleneck clams steamed in a white wine and garlic butter broth served with crostini - 11.99
Nachos Supreme
House-fried corn tortilla chips with jalapenos, tomatoes, black olives, salsa, sour cream and queso cheese; add 2.00 for grilled chicken breast or chili - 8.99
Pork Wings
Lean, tender bone-in pork shanks tossed in a sweet and spicy Thai chili glaze over citrus cole slaw - 11.99
Stuffed Potato Skins
Lightly-fried potato halves stuffed with Oscar's hickory-smoked bacon topped with melted cheddar cheese - 7.99
Chicken Quesadilla
Grilled chicken breast, roasted peppers, sauteed onions and monterey jack cheese in a grilled tortilla - 8.99
Pub Basket
Chicken tenders, mozzarella sticks, beer-battered onion rings, macaroni and cheese bites and beer-battered French fries - 10.99
Sweet Potato Fries
Served with raspberry melba sauce - 6.99
Mozzarella Sticks
Served with marinara or raspberry melba sauce - 8.99
Fresh Salads
Cobb Salad
Fresh greens, grilled chicken breast, grape tomatoes, hickory-smoked bacon, black olives, avocado, bleu cheese crumbles and a hard-boiled egg - 12.99
Steakhouse Salad
Fresh greens, petite tenderloin filet, fresh mozzarella, grape tomatoes and avocado with homemade roasted garlic and asiago dressing - 12.9
Seared Ahi Tuna Salad
Sesame-crusted seared ahi tuna with fresh greens, avocado, cucumbers, red onions, pickled ginger and crispy wonton strips served with sesame ginger vinaigrette - 13.99
Chef Salad
Fresh greens, thin-sliced roast beef and oven-roasted turkey, Swiss Cheese, American cheese, grape tomatoes, red onions, cucumbers, homemade croutons and a hard-boiled egg - 11.99
Chicken Caesar Salad
Fresh romaine wedges drizzled with caesar dressing topped with grilled chicken breast and grated parmesan cheese served with toasted flatbread wedges - 10.99
Homemade Soups
Soup and Sandwich Combo
Your choice of a turkey, ham, roast beef or grilled cheese sandwich with a bowl of homemade soup and homemade potato chips; add 2.00 to substitute French onion soup - 9.99
French Onion Soup
Caramelized onions in a hearty broth with homemade croutons and melted Swiss, provolone and parmesan cheese - 6.29
Beef Bison Chili
Tomatoes, onions, pinto beans and garlic combined with bison and ground beef simmered in dark ale - 6.29
Burgers
Burgers, wraps and sandwiches served with homemade potato chips, French fries or cole slaw; substitute sweet potato fries, beer-battered onion rings, beer-battered fries or a fresh garden salad for 2.25
Cheese: American, Sharp Cheddar, Provolone, Swiss
Additional Toppings (1.00 apiece): Bacon, Avocado, Bleu Cheese Crumbles, Chili, Fried Egg, Jalapenos, Sauteed Mushrooms, Sauteed Onions, Sauteed Peppers
Half Pound Burger
One-hundred percent Certified Black Angus burger with choice of lettuce, tomato, red onion and cheese - 10.99
The WarrensBurgher
The biggest, baddest burger around! A one-pound burger topped with hickory-smoked bacon, sharp cheddar cheese, lettuce, tomato and red onion - 15.99
The Local Burger
Topped with Oscar's hickory-smoked bacon, Oscar's smoked cheddar cheese and Oscar's More than Mustard with Gallup Farm Fickle Pickles - 13.99
Fat Angus Burger
Stuffed with monterey jack cheese, hickory-smoked bacon and caramelized onions topped with lettuce, tomato, red onion and sharp cheddar cheese with a side of garlic aioli on a garlic-toasted roll - 13.9
Turkey Mozzarella Burger
Cage-free, all-natural turkey burger from Thurman's Whitefield Farms topped with fresh mozzarella, basil pesto, lettuce and tomato finished with balsamic reduction - 12.99
Irish Cheddar Burger
Topped with Irish porter cheddar cheese, caramelized onions, hickory-smoked bacon and dijon aioli - 13.99
Wraps
Steak Henry
Thin-sliced roast beef, sauteed onions, roasted peppers and American and monterrey jack cheese - 9.99
Buffalo Chicken
Crispy chicken tossed in wing sauce with bacon, lettuce, tomato, red onion and bleu cheese dressing - 9.99
Greek Chicken
Grilled chicken, fresh spinach, tomatoes, cucumbers, red onion, Mediterranean feta cheese and tzatziki - 9.99
Entrees
Served with homemade soup or garden salad; substitute French onion soup or side caesar salad for 2.25; entrees available after 4 p.m.
Prime NY Strip Steak
Twelve-ounce prime strip steak topped with creamy melted Boursin cheese and caramelized onions - 20.99
Macaroni and Cheese
Gemelli pasta in a creamy four-cheese blend oven-baked to perfection - 13.99
Mediterranean Shrimp Pasta
Jumbo shrimp with Mediterranean feta cheese, roasted tomatoes, kalamata olives and garlic served over linguini with a sherry wine sauce - 18.99
Irish Cheddar Mac and Cheese
Gemelli pasta with Irish porter cheddar and Oscar's pork bratwurst with panko bread crumbs - 15.99
Chicken Parmesan
Hand-breaded chicken breast topped with marinara and melted provolone cheese atop linguine - 16.99
Sandwiches
The Adirondacker
Oven-roasted turkey, roast beef, bacon, American cheese, tomato and mayo on a garlic-toasted ciabatta roll - 10.99
Filet Pub Melt
Sliced petite tenderloin filet with caramelized onions and melted asiago cheese on a garlic-toasted ciabatta roll - 12.99
Not Your Father's Reuben
Thick-cut corned beef, caramelized onions, sauerkraut, diced Oscar's bacon, Swiss cheese and thousand island dressing on grilled marble rye - 11.99
Vermonster Panini
Oven-roasted turkey, bacon, cheddar cheese, baked granny smith apples and cranberry mayo - 10.99
Traditional Club
Thin-sliced turkey or roast beef with bacon, lettuce, tomato and mayo on toasted white bread - 10.99
French Dip
Roast beef, sauteed onions, baked Swiss and provolone cheese on a toasted ciabatta roll with au jus - 10.99
Popeye Panini
Oven-roasted turkey, spinach, artichoke hearts, avocado, fresh mozzarella and basil aioli - 10.99